Regular price
$90.99 USD
Sale price
$89.90 USD
Unit price
per
Sale
Sold out
At Alkanatur we join the fight against breast cancer, which is why all purchases of our Alkanatur Pink Pitcher contribute to the fight against breast cancer. 5% of each sale is destined to fund breast cancer research.

The Alkanatur Pitcher
The Alkanatur Pitcher alkalizes, ionizes, hydrogenates, and purifies water while adding high-quality magnesium (18mg / L), it retains potassium in water and removes excess calcium resulting in a balanced, fresh, and delicious water.
The Alkanatur alkaline ionized water filter, manufactured 100% in Spain, is the result of 2 years of investigation with the University of Galicia. It has all the certifications required by the European Union. See Certificates.
The filter is created with 100% natural materials, that do not harm our body
The Alkamicronized selective® patent allows filtering up to 400 liters of water free of chlorine, fluorides, pesticides, nitrates, heavy metals, excess calcium, and more. This is possible thanks to the premium quality coconut charcoal powder inside the filter.
The filter has Antioxidant Alkaline Bioceramics and high-quality coconut active charcoal. Providing an alkaline pH (between 8.5 and 9.5) without adding calcium or sodium to the water, and adding high-quality magnesium.
It does not add sodium, and the filter DOES NOT contain ion exchange resin. Alkanatur is the only filter that does not use Ion Exchange Resin. This process usually adds sodium to the water (excess sodium has been linked to many health problems)
Does not contain any endocrine disruptors, BPA-Free and Phthalates-Free
Fast filtering: 1 liter in 4 minutes and high-capacity filter of 400 liters (105 gallons)
The water filter provides a unique antioxidant capacity of -700mV ORP. Our patented CAM system (Capacity to Maintain Antioxidant) allows for 77.7% of the antioxidants to reach the areas in your body by free radicals. The most popular pitchers and filters out there are only able to use only up to 10% of the antioxidants generated effectively.
Generates Ionized water preventing oxidation (Oxidation by free radicals has been linked to premature aging and degenerative diseases)
If you are still not convinced keep scrolling down
Package Content:
Alkanatur Drops Water Pitcher
Alkanatur Water Filter (400 liters)
ph Drops - to test the pH of the water
ph Strips - to test the pH of the body
Share
View full details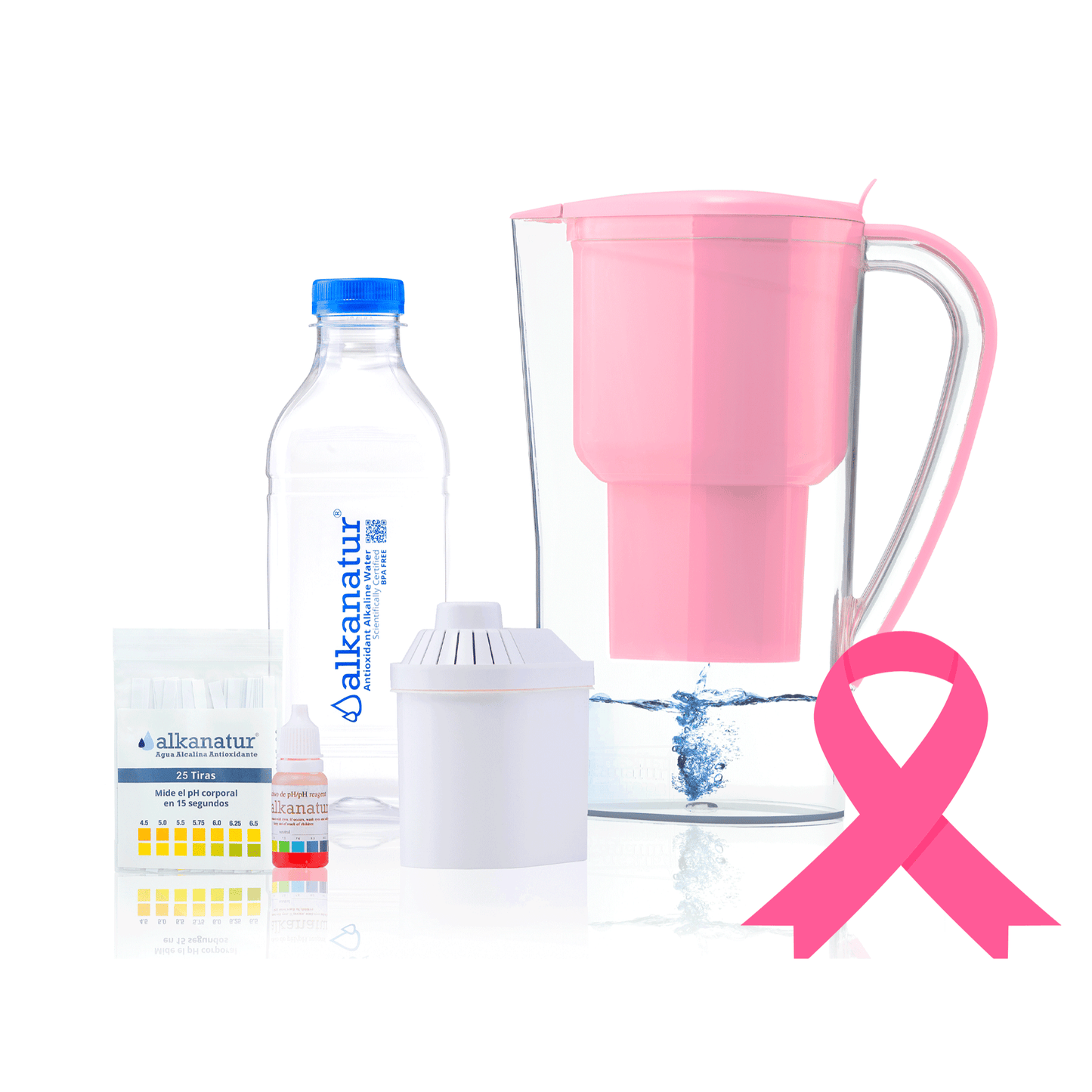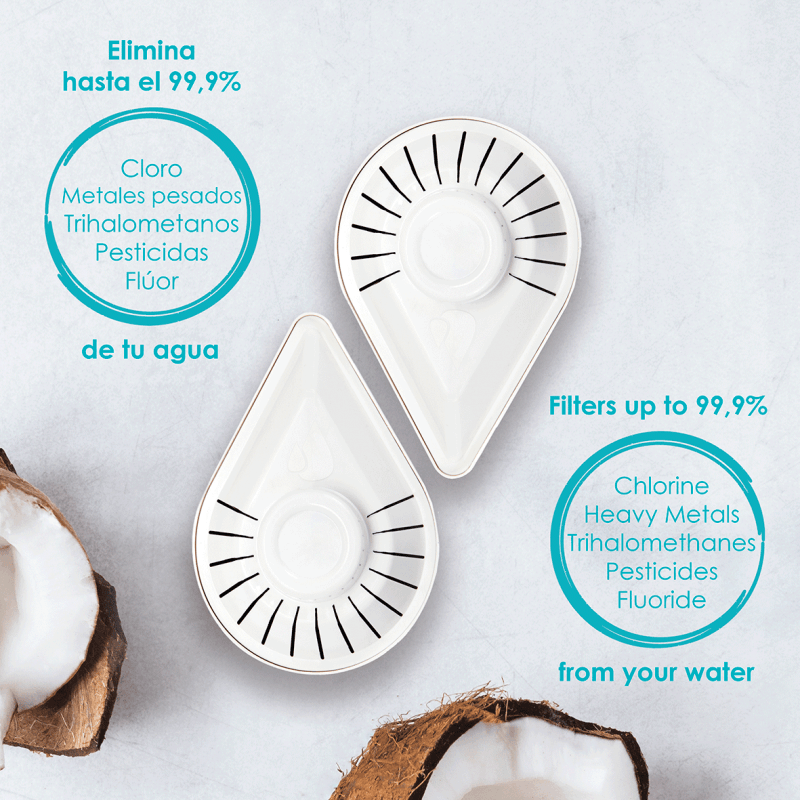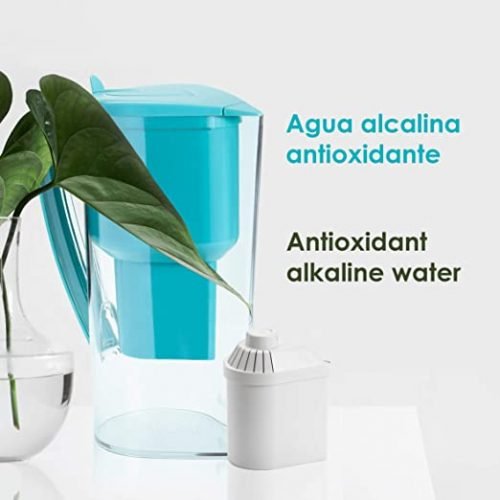 Still not convinced
Most Certified Pitcher

The Alkanatur Pitcher (and its filters) are the most studied and certified pitcher in the market. All our claims are backed up by certificates, research, and/or studies. You can check all of it here

CERTIFIED: Alkanatur Pitcher is BPA-free. It is FDA, CE (European Committee), ROHS (Restriction of Hazardous Substances), and SGS (Society Generale Surveillance) approved. The Alkanatur filter is certified by the CERAMIC INSTITUE OF GALICIA (Santiago de Compostela University, Spain) and more.
First pitcher with the UNE 149101:2015* certificate

Alkanatur is the first and only pitcher with the UNE 149101:2015* certification. Analyzed by the prestigious Oliver Rodés laboratory. In this analysis, we can observe how the filters of the Alkanatur Drops jug eliminate in very significant quantities the presence of certain substances in tap water, such as antimony, arsenic, benzene, copper, nitrate, nitrite, various pesticides, lead, selenium, trihalomethanes, aluminum, ammonium, chlorine, iron, among others.
The only pitcher that doesn't use Ion Exchange Resin

NO SODIUM ADDED: The only filter that purifies and alkalizes without adding sodium. The Alkanatur pitcher uses an active bioceramic filter of high quality which transforms regular tap water into purified alkaline and ionized water with pH of 8.5-9.5
Backed up by independent institutions