Regular price
$143.90 USD
Regular price
$143.90 USD
Sale price
$143.90 USD
Unit price
per
Sale
Sold out
What's included in this bundle:
Alkanatur Pitcher
4 Filters for 1,600 liters (425 gals.), equivalent to 12 months of regular use
Each filter has a duration of 400 liters (110 gals.)
x1 BPA-free bottle
Reactive strips to measure pH of the body
Reactive drops to measure pH of the water
The Alkanatur Pitcher
The Alkanatur Pitcher alkalizes, ionizes, hydrogenates, and purifies water while adding high-quality magnesium (18mg / L), it retains potassium in water and removes excess calcium resulting in balanced, fresh, and delicious water.
The Alkanatur alkaline ionized water filter, manufactured 100% in Spain, is the result of 2 years of investigation with the University of Galicia. It has all the certifications required by the European Union. See Certificates.
The filter is created with 100% natural materials, that do not harm our body
The Alkamicronized selective® patent allows filtering up to 400 liters of water free of chlorine, fluorides, pesticides, nitrates, heavy metals, excess calcium, and more. This is possible thanks to the premium quality coconut charcoal powder inside the filter.
The filter has Antioxidant Alkaline Bioceramics and high-quality coconut active charcoal. Providing an alkaline pH (between 8.5 and 9.5) without adding calcium or sodium to the water, and adding high-quality magnesium.
It does not add sodium, and the filter DOES NOT contain ion exchange resin. Alkanatur is the only filter that does not use Ion Exchange Resin. This process usually adds sodium to the water (excess sodium has been linked to many health problems)
Does not contain any endocrine disruptors, BPA-Free and Phthalates-Free
Fast filtering: 1 liter in 4 minutes and high-capacity filter of 400 liters (105 gallons)
The water filter provides a unique antioxidant capacity of -700mV ORP. Our patented CAM system (Capacity to Maintain Antioxidant) allows for 77.7% of the antioxidants to reach the areas in your body by free radicals. The most popular pitchers and filters out there are only able to use only up to 10% of the antioxidants generated effectively.
Generates Ionized water preventing oxidation (Oxidation by free radicals has been linked to premature aging and degenerative diseases)
If you are still not convinced keep scrolling down
Share
View full details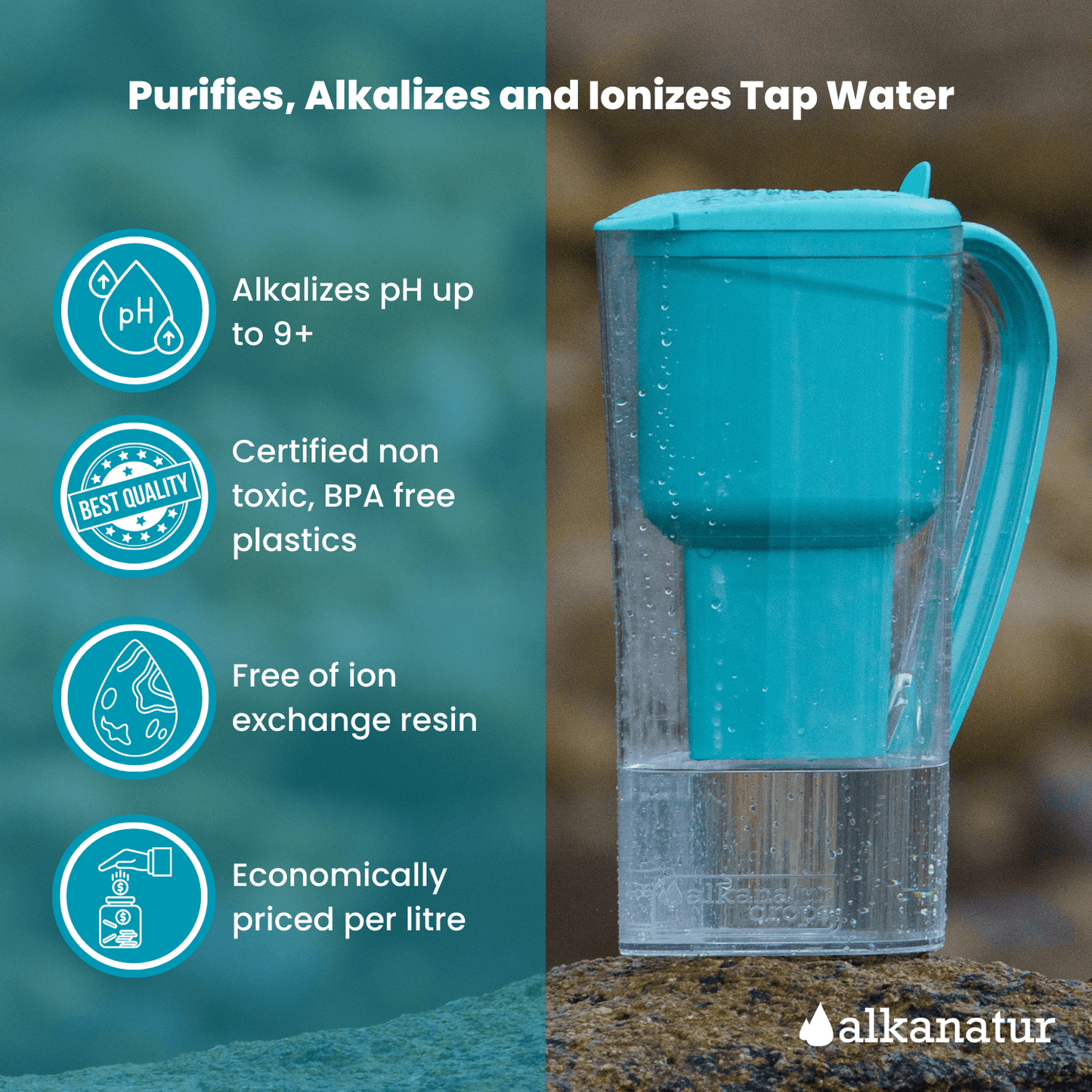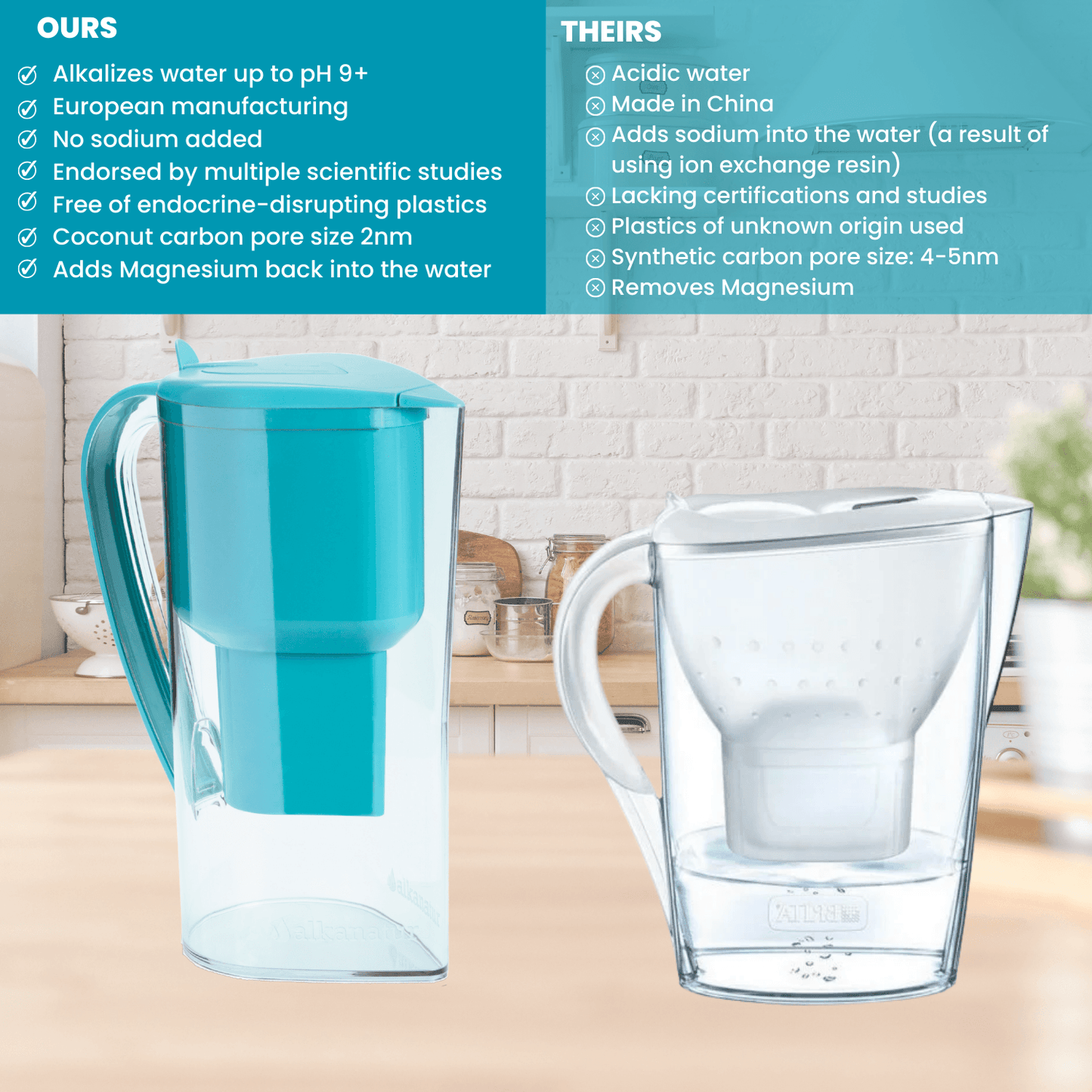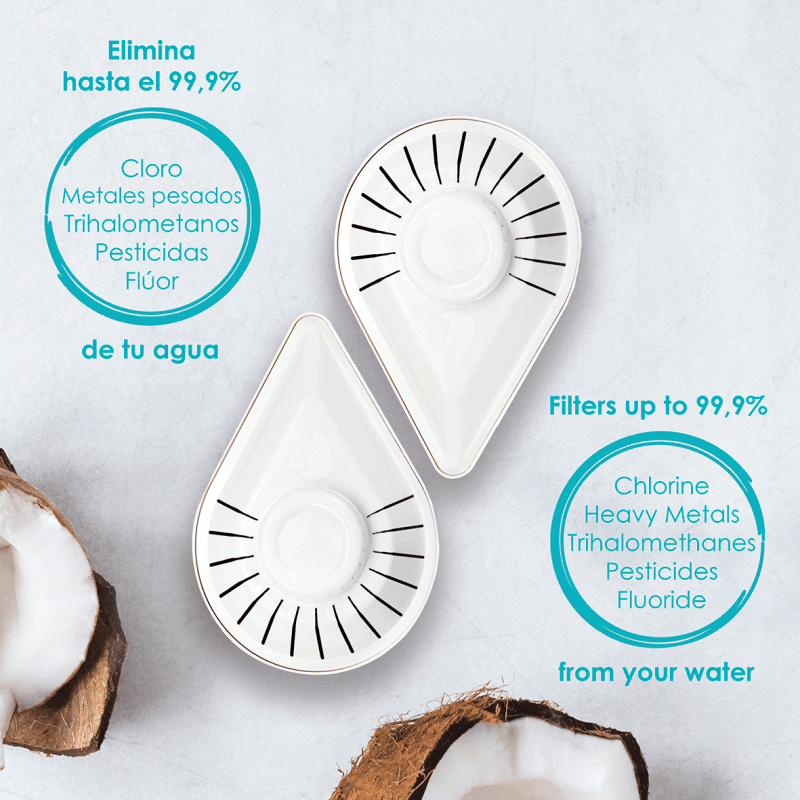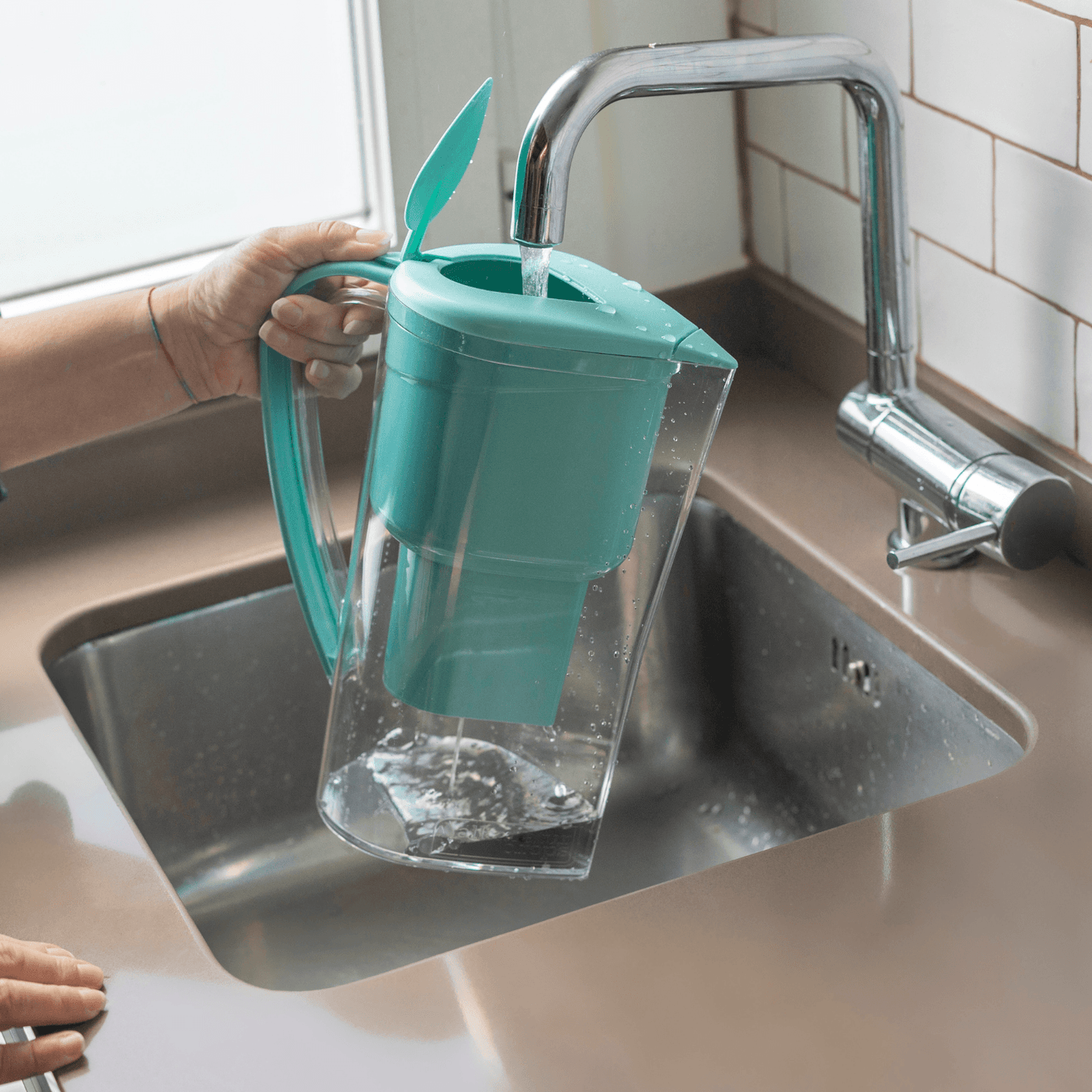 Still not convinced
Most Certified Pitcher

The Alkanatur Pitcher (and its filters) are the most studied and certified pitcher in the market. All our claims are backed up by certificates, research, and/or studies. You can check all of it here

CERTIFIED: Alkanatur Pitcher is BPA-free. It is FDA, CE (European Committee), ROHS (Restriction of Hazardous Substances), and SGS (Society Generale Surveillance) approved. The Alkanatur filter is certified by the CERAMIC INSTITUE OF GALICIA (Santiago de Compostela University, Spain) and more.
First pitcher with the UNE 149101:2015* certificate

Alkanatur is the first and only pitcher with the UNE 149101:2015* certification. Analyzed by the prestigious Oliver Rodés laboratory. In this analysis, we can observe how the filters of the Alkanatur Drops jug eliminate in very significant quantities the presence of certain substances in tap water, such as antimony, arsenic, benzene, copper, nitrate, nitrite, various pesticides, lead, selenium, trihalomethanes, aluminum, ammonium, chlorine, iron, among others.
The only pitcher that doesn't use Ion Exchange Resin

NO SODIUM ADDED: The only filter that purifies and alkalizes without adding sodium. The Alkanatur pitcher uses an active bioceramic filter of high quality which transforms regular tap water into purified alkaline and ionized water with pH of 8.5-9.5
Backed up by independent institutions
no change noticed yet, suggestions on design
Got this alkaline pitcher as an experiment to see if alkaline water makes any improvement to my health, as was considering a Kangen or Tyent water machine and wanted to see if this pitcher made a difference before spending bigger bucks. This pitcher doesn't do the electric charge that K and T say add extra hydrogen benefits (no sure on validity of this), so have been using for 1 week. No changes in health and no less back pain noticed. Noticed design issues, that for spending $180 on a pitcher and 3 spare filters, the pitcher is smaller than my brita pitcher, along with the top portion easily leaking out if there is still some water in the top when pouring water. One may ask why I would have water in the top, to which the reason is because the pitcher filtered capacity is so small, I may be able to pour 1 litre of water, then need to add more water to the pitcher. Not sure if it would even have enough water to do a 12 cup pot of coffee. I would recommend that Alkanatur should make 2 sizes of pitchers so the consumer can determine what size they need vs only having this smaller size, as I drink approx 3 litres of water each day and am finding this small pitcher not sustainable for having to fill 3 times each day. At this point, due to having the pitcher, I will most likely keep using, but after all the filters are used up, at this point, I will not re-order and will mostly likely buy an 18.9 L jug of distilled water from the local water shop, and can either take alkaline capsules to see how the body does for acidity or basic saliva/urine, and to see if this will make any difference in the overall health, or if to just keep drinking distilled water and taking general herbs/supplements for overall good health.
Qualité de l'eau
Excellente qualité de l'eau, je recommande !!
Feels good to know we're drinking healthy water. 🤗
Great product
I have been using this product for a few years back in Spain. I just bought a new pitcher and filters here in the US.
I absolutely love this product but I agree with some of the comments, the pitcher needs some design improvements.
Thanks for your feedback, Alkanatur is working on this, stay tuned